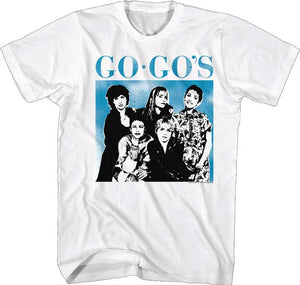 The Go Go's Group Shot Men's Tee
Featuring soft cotton material,  Go go's group shot image & logo PRINT ON FRONT OF THE T-SHIRT.  SHORT SLEEVES WITH CREW NECKLINE.

 
The Go-Go's are an American new wave band formed in Los Angeles, California in 1978. Except for short periods when other musicians joined briefly, the band has had a relatively stable line-up consisting of Charlotte Caffey on lead guitar and keyboards, Belinda Carlisle on lead vocals, Gina Schock on drums, Kathy Valentine on bass guitar, and Jane Wiedlin on rhythm guitar. The Go-Go's rose to fame during the early 1980s. The band is the first all-female band that both wrote their own songs and played their own instruments to top the Billboard album charts.
~  MATERIAL CONTENT:
*  100% COTTON
~  CARE INSTRUCTION:
*  MACHINE WASH COLD
*  DO NOT BLEACH
*  TUMBLE DRY LOW
*  REMOVE PROMPTLY
~  MEASUREMENT:

*  SIZE SMALL APPROX. MEASURED 35"BUST X 28"LENGTH
*  SIZE MEDIUM APPROX. MEASURED 38"BUST X 29"LENGTH
*  SIZE LARGE APPROX. MEASURED 42"BUST X 30"LENGTH
*  SIZE X-LARGE APPROX. MEASURED 46"BUST X 32"LENGTH