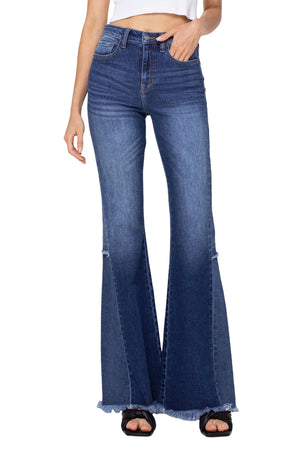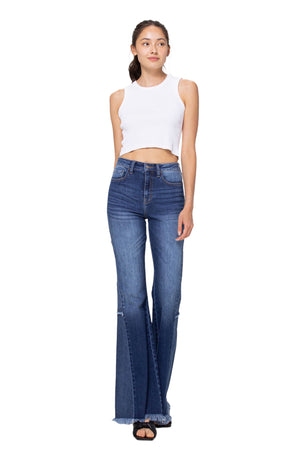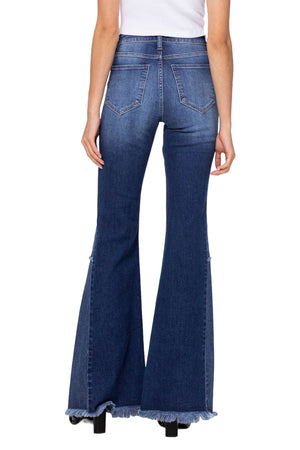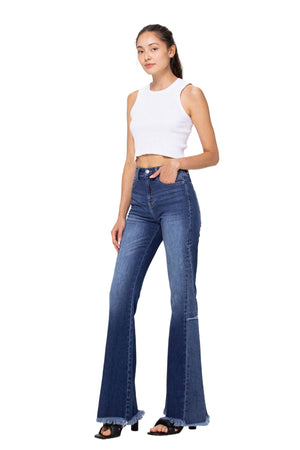 Lynn Side Patchwork Bell Bottoms
it' IS 70'S style JEANS you have enough. FEATURING STRETCHY indigo blue COLOR DENIM FABRICATION, SLIM  SILHOUETTE WITH FLARE, 5 POCKETS design, BELT LOOPS, HIGH RISE CONSTRUCTION, rate edge detailing, ZIP FLY AND BUTTON CLOSURE, and finish with mid-blue denim patch at the bottom flare . 
PAIR WITH ROCK AND ROLL TEE,  CROP TOP AND ANKLE BOOTIES.
~ MATERIAL CONTENT:
* 93% COTTON
* 5%polyester
* 2% SPANDEX
~ CARE INSTRUCTION:
* MACHINE WASH COLD
* WASH INSIDE OUT
* DO NOT BLEACH
* TUMBLE DRY LOW
* IRON LOW
~ MEASUREMENT:

* SIZE 1 APPROX. MEASURED 26"WAIST (WILL STRETCH MORE)X 11.5"RISE X 44.5"LENGTH X 35"INSEAM X 24"FLARE

* SIZE 3 APPROX. MEASURED 28"WAIST (WILL STRETCH MORE) X 12"RISE X 45"LENGTH X 35.5"INSEAM X 25"FLARE

* SIZE 5 APPROX. MEASURED 29"WAIST (WILL STRETCH MORE)X 12.5"RISE X 45.5"LENGTH X 36"INSEAM X 26"FLARE

* SIZE 7 APPROX. MEASURED 30"WAIST (WILL STRETCH MORE)X 12.75"RISE X 46"LENGTH X 36.25"INSEAM X 27"FLARE

* SIZE 9 APPROX. MEASURED 32"WAIST (WILL STRETCH MORE)X 13"RISE X 46.5"LENGTH X 36.5"INSEAM X 28"FLARE

* SIZE 11 APPROX. MEASURED 33"WAIST (WILL STRETCH MORE)X 13.25"RISE X 47"LENGTH X 37"INSEAM X 29"FLARE

* SIZE 13 APPROX. MEASURED 34"WAIST (WILL STRETCH MORE)X 13.5"RISE X 47.5"LENGTH X 37.25"INSEAM X 30"FLARE